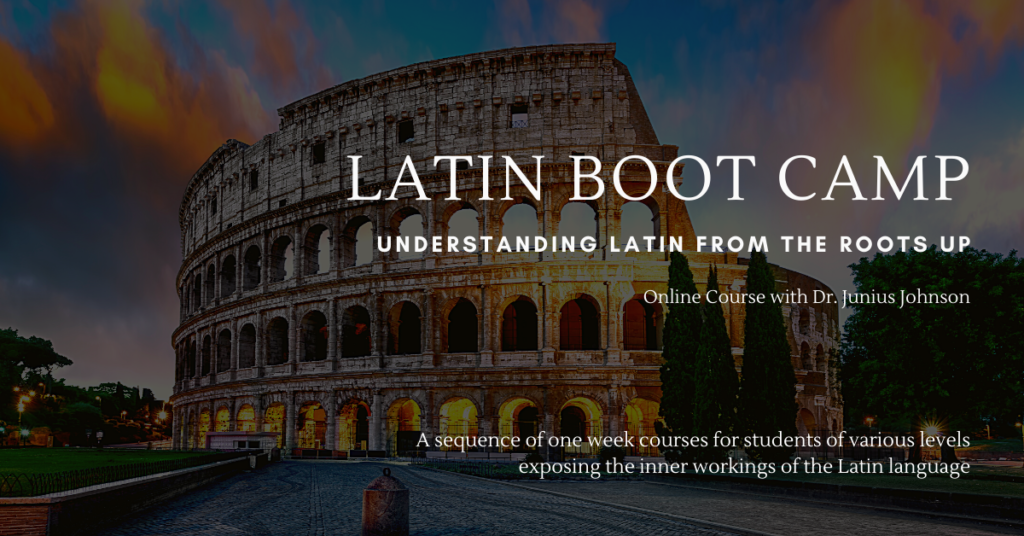 Latin Boot Camp 1 was so fun! Mr. Junius used gloriously fun activities to explain concepts applying not just to Latin but to all of language. He broadened my conception of language as a whole. Latin Boot Camp was engaging and entertaining; it has made me eager not just to learn Latin, but to explore it as a wonderful adventure land.

Katie
The Latin Boot Camps are a series of one week courses designed to transform a student's engagement with learning Latin. Packed with fun activities and taught by a leading Latinist with 20 years of experience designing and teaching Latin curriculum, these supplemental courses inspire students with a vision for the study of Latin and empower them to tackle the arduous tasks required with a greatly increased likelihood of success. This is accomplished in five 90 minute sessions conducted over Zoom.
Each of the courses is independent, and each one arms the student with a knowledge about the fundamental nature of Latin that has been proven in the classroom to increase retention, comprehension, and motivation.
Think of it as a shot in the arm that jump-starts the student's learning, preparing them to not only succeed, but excel at learning Latin. Open to middle and high school students or the equivalent.
Latin Boot Camp Level I: The Basics of Communication
April 19-23, 2021, 4:00-5:00 pm Central Time (Registration deadline April 16)
$120 / student
This boot camp introduces students to the basic ideas that make languages, and particularly Latin, work. Essential for any student of Latin, this boot camp lifts the curtain so students can understand why Latin has the complicated forms it does, and allows them to see past the memorization to the meaning.
Boot Camp Level II: The Elements of Latin
April 26-30, 2021, 4:00-5:00 pm Central Time (Registration deadline April 23)
$120 / student
This boot camp, designed for Latin students within the first two years of study (those still learning the forms of verbs and nouns) takes a closer look at the elements of Latin that are unusual for an English speaker: cases, declensions, and the expanded verb system. The focus is not on memorization or learning of forms, but rather on seeing the logic behind the constructions and the history that caused such a wide variety of forms to exist. In essence, we will be answering a lot of "why" questions: "Why does Latin have so many cases?" "Why does the accusative so often end with 'm'?" This knowledge provides a structure that not only makes memorization easier, but also helps the student to think Latinly.
Boot Camp Level III: The Structures of Latin
May 3-7, 2021, 4:00-5:00 pm Central Time (Registration deadline April 30)
$120 / student
This final boot camp is for intermediate to advanced students of Latin (those who are doing more translation than learning of forms). Focusing on an often overlooked feature of Latin (word order), students will learn how to see the structural components of Latin sentences, which will make the task of translating easier and more compact. Latin's highly specific word order practices (contrary to what some curricula claim) underlie the unique way Latin constructs meaning and conveys emphasis. These structural analysis tools make even the most complicated of Latin sentences easy to analyze without the need to rewrite them in a formal sentence diagram. More than anything else, this is the skill that makes reading real Latin texts easier.
Sign up for updates about future Latin Boot Camps here.
With humor, intelligent discussion, and deep insights, Junius Johnson gives you more than an overview or introduction to Latin, he inspires you to keep learning hard things while giving you a vision and much fuller picture of Latin.

Diana
About the Instructor
Dr. Junius Johnson is internationally recognized as a leading Latinist and a dynamic teacher. An accomplished linguist proficient in twelve languages, Dr. Johnson studied Latin at the Vatican with the late Fr. Reginald Foster, architect of many of the Vatican's Latin documents in the second half of the twentieth century and widely regarded as one of the greatest modern Latinists. As a Lecturer in Ecclesiastical Latin at the masters and doctoral level at Yale University for nearly a decade, Dr. Johnson's students included some of the brightest and most accomplished young scholars working today. His translations have appeared in books by Yale University Press and numerous scholarly journals, have been set to music, and have even been used in Hollywood. He is the author of four books, including Bonaventure On The Eucharist: Commentary on the Sentences, Book IV,dist. 8-13, (Dallas Medieval Texts and Translations 23, Louvain: Peeters Press, 2017), an English translation of an important Medieval theological text.
Dr. Johnson also has extensive experience teaching children, having worked in both public schools and private schools. He has also tutored students of all ages. He is passionate about helping students discover the joys of Latin and equipping them to succeed in its study.
Back to Latinitas.