Transform Your Latin Study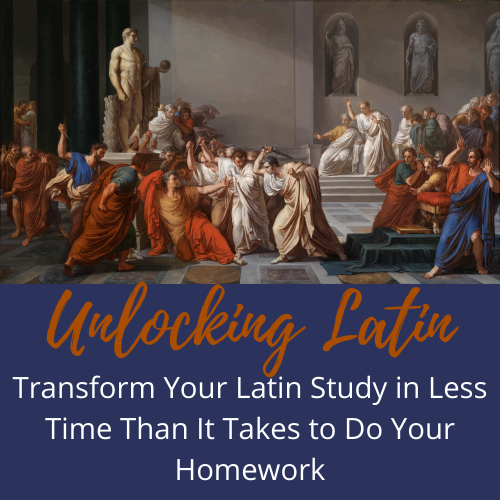 Latin is a beautiful and versatile language; but it is also very foreign to an English speaker, and the work we're asked to do (memorizing declensions, conjugations, and a long list of vocab) doesn't seem to have a clear relation to communication. This perception, while common, is mistaken.
In this 30 minute video I will draw from my Latin Boot Camps to introduce the principles that help students begin to move beyond the necessary work of memorization and into principles that reveal the inner heart of the Latin language. Declensions, conjugations, etc.: these are how Latin goes about its work; but behind all these, there are the answers to the why questions, questions that are too often not able to fit into established curricula. But these "why" questions are essential: they are the keys to unlocking the thinking that makes Latin work. And if you know why the language is doing what it's doing, the how makes a lot more sense.
Watch the video now!
Sign up for updates about future Latin courses and seminars here.
About the Instructor
Dr. Junius Johnson is internationally recognized as a leading Latinist and a dynamic teacher. An accomplished linguist proficient in twelve languages, Dr. Johnson studied Latin at the Vatican with the late Fr. Reginald Foster, architect of many of the Vatican's Latin documents in the second half of the twentieth century and widely regarded as one of the greatest modern Latinists. As a Lecturer in Ecclesiastical Latin at the masters and doctoral level at Yale University for nearly a decade, Dr. Johnson's students included some of the brightest and most accomplished young scholars working today. His translations have appeared in books by Yale University Press and numerous scholarly journals, have been set to music, and have even been used in Hollywood. He is the author of four books, including Bonaventure On The Eucharist: Commentary on the Sentences, Book IV,dist. 8-13, (Dallas Medieval Texts and Translations 23, Louvain: Peeters Press, 2017), an English translation of an important Medieval theological text.
Dr. Johnson also has extensive experience teaching children, having worked in both public schools and private schools. He has also tutored students of all ages. He is passionate about helping students discover the joys of Latin and equipping them to succeed in its study.
Back to Colloquia Latinitatis.